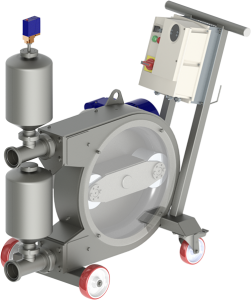 APPLICATION
Transportation of liquids and fluids with wide range of consistence and viscosities. The pumps are self-priming up to 7 meters under their own level. There is a possibility for reversing according to the direction of the electric motor. They are supplied with device which is protecting from overloading of the outlet pressure. These pumps are with stainless steel corpus details.
TECHNICAL PARAMETERS
Capacity: up to 26 m3/h
Head: up to 3 bar
Temperature: up to +85°C
Installed Power: up to 5.5 kW, 380(440)V, 50 (60) Hz
Material: AISI 304, NR (EPDM, NBR)
MODIFICATIONS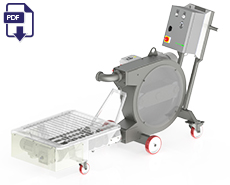 PP710D: Mobile peristaltic pump PP700 equipped with a reinforced hopper fitted with a screw feeding device and disintegrator.