APPLICATION
Transportation of clean, polluted or aggressive liquids, which chemicals are non-active to the material which the pump is made of. Suitable for cooling systems, purifying equipment and etc.
TECHNICAL PARAMETERS
Capacity: up to 100 m3/h
Head: up to 4 bar
Temperature: up to +95 (120) °C
Installed Power: up to 11.0 kW, 380(440)V, 50 (60) Hz
Material: AISI 304
MODIFICATIONS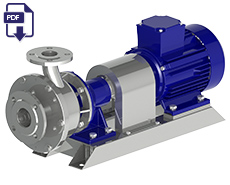 PC150M1R: PC150 with own geared body joined to the electric motor through a connector, mounted on a frame.